What a night!
A night to celebrate our 2021 graduates.
A night to laugh, smile and cry together.
A night to jump for joy at all of your accomplishments.
A night to be encouraged.
A night to start the next steps of your journey.
We had 117 graduates join us in the virtual party. 117 – wow! This group is a subset of the larger HCOS Graduation class of 340 students. 340 students who have worked so hard to complete their K-12 journey. Congratulations to each and every one of you! You did it!
Thank you to all who joined us to celebrate our graduates – graduates, students, family near and far, friends, teachers, and admin! Your presence matters and makes an impact on the celebration. As we walked through each student's personal biography, the comments, the cheering, the celebration was something to really be proud of. HCOS Graduates, your community is behind you as you take these next steps into your future. Additionally, thanks to those behind the scenes that ensured the success of the event and worked so hard to provide surprises to our students.
From the decorated backgrounds and confetti, to parents planning unique surprises for their students (flashing disco lights!) our evening was fun, unique and unforgettable. We had messages from Sara Kraushar, our Academic Head of School and Chelsea Bitgood, our Grad Program Director. We heard a blessing and benediction from Craig Kwaitkowski our Business Head of School. Even with having to be limited to zoom (thanks COVID) it was a personal and meaningful event.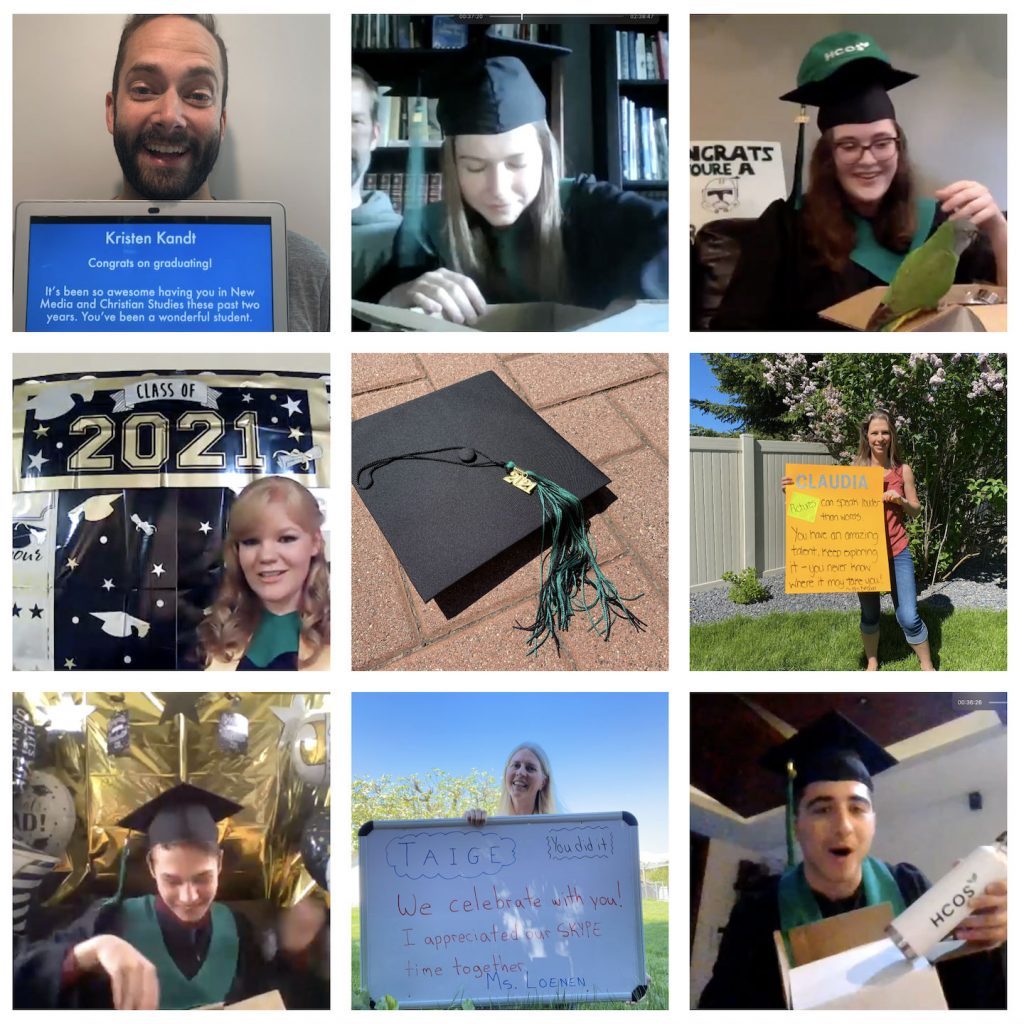 And now, a last message for our graduates, taking a quote straight from our valedictorian, Lydia Schoeman:
My challenge to you as we begin this new phase of our lives. Live each and every day like it was your last. Do the things you've always wanted to do (unless they're illegal or against the laws of physics, and then maybe don't). Tell your parents you love them. Maintain a healthy work-life balance, so that you have time for your friends and family. Enjoy the simple things in life – like sunsets, and ice-cream cones on the beach, or a good song on the radio. Learn from your mistakes. Use your God-given talents to help others. Find your calling, and work at it wholeheartedly. Don't waste a single moment of this precious life that you have been given. Live like you were dying.

Lydia Schoeman
Graduates, as you take these next steps, remember those words. Each day is a gift to you, some will be harder than others, but remember to live – live through the ups and downs of the journey.
Thank you for allowing us to be part of your journey, and to celebrate with you!